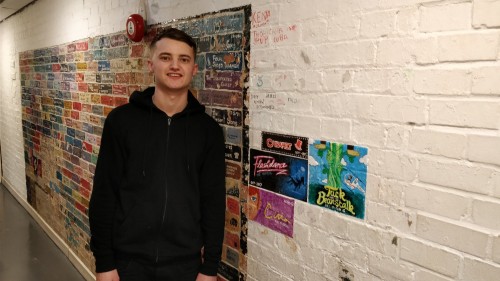 A unique opportunity to learn from the UK's largest theatre operator, ATG's technical apprenticeships are a great way to kick-start a technical theatre career by working within a busy technical department.
Working in one of our regional or London venues, apprentices gain hands on experience straight away, working alongside our in-house technical teams and visiting companies to support our busy performance programme. Our theatres are all receiving houses with an ever-changing variety of productions, so you're guaranteed to work on an interesting variety of shows and events.
The apprenticeship lasts for two years and includes time with lighting, flys and stage. During that time you'll work in at least two of our theatres and be challenged to develop your skills and take on a wide range of tasks. On completing, apprentices have the skills and experience required to work as a multi-skilled technician.
Training & Qualifications
The apprenticeship standard we offer is the Creative Venue Technician apprenticeship at Level 3. You can find out more about what you're expected to learn and how it is assessed on the Institute for Apprenticeships website.
Approximately 20% of your time is spent on 'off the job' training like training courses, shadowing and taught sessions from our partner college, with the remaining 80% of your time spent working as a trainee technician on real events. Training courses are offered by ATG and other specialist organisations: everything from PAT testing to working at height and risk assessment to operating lighting desks.
You'll be assessed and supported by colleagues at ATG and an assessor from the National College for Creative & Cultural Industries, which is our partner college. At the end of your apprenticeship your final assessment will be taken with another organisation.
Apprentices are also required to hold Level 2 qualifications in English, Maths and ICT; these are compulsory and will be completed with the college during your apprenticeship if you do not already hold them.
What kind of careers does this apprenticeship lead to?
Our apprenticeship programme began in 2013 and since then we have employed 20 apprentice theatre technicians. Since their apprenticeships, they have gone on to work as:
Full time technician at our Ambassadors Theatre in Woking
Full time Senior Technician at ATG's New Wimbledon Theatre
Casual Theatre Technician at ATG's Richmond, Oxford, York, Birmingham and Stoke theatres
Part time safety officer at ATG's New Alexandra Theatre in Birmingham
Full time technician at the National Theatre
Full time technician at Derby Theatre
LX on ATG productions in the West End
Hear from our past apprentices
Jennie
I completed my apprenticeship at the Duke of York's Theatre in London (2017). I was there for a year and spent my time going between carpentry and electrics. Over the year I was given a really good grounding in just about every aspect of technical theatre, counterweight flying, followspotting, rigging, hemp flying, board opping to name just a few. I was completely new to working in theatre but it didn't matter as I was taught everything I needed, even how to use tools properly. I was really encouraged to ask questions and was never made to feel stupid for not knowing something.
Picking a favourite part would be impossible as the whole year was fantastic, I've been given so many opportunities, like working on some of the best shows in the West End at the time and with leading industry professionals, I was given the chance to work in other theatres, and had backstage tours around some of the most prestigious venues in London. The contacts I made during my apprenticeship have helped me find work since leaving the Dukes and has consequently lead on to a full time technician job in another ATG venue.
Before applying you need to know that what you put into the apprenticeship is what you get out of it, if you throw yourself in completely and learn everything you can, being eager and enthusiastic, you'll get a lot more out of it than if you go through doing the minimal coursework needed to pass! This apprenticeship was such an amazing opportunity as I dove head first into the industry, something that going to university wouldn't have given me.
Before applying, there's some key aspects of our apprenticeship you should think about to help decide if it is for you.
Relocation. The first year of the apprenticeship is spent in one theatre, and the second year based in another. Depending on where you live, you may need to move house half way through. We will support you with this including relocation payments, but you'll need to think about whether you would be happy to move home.
Working Hours. Theatre Technicians work varying hours every week depending on what show or event they are working on. You could be doing maintenance during the day one week, a different one-nighter every evening the next week and then 8 shows of the same production the week after. Our technicians regularly work late including some shifts well into the night for get outs. You'll need to consider if that sounds like something you'd be happy doing, especially if your friends and family work very different hours to you.
Transport. If you're finishing work late at night, you'll need to think about how you're getting to and from work. When you know which theatres you want to apply to, you'll need to plan how you'll travel and if that will work if you finish at an unusual time of day, how long it will take as well as how much it will cost you. We don't recommend you take on a long and expensive commute as it will put a lot of additional pressure on you.
Organisation. Keeping on top of your coursework during the apprenticeship is essential; you cannot complete the apprenticeship without it. You'll need to be committed to every aspect of the apprenticeship, do your best at all tasks and keep to your deadlines. This will include keeping a portfolio of your work, keeping in regular contact with your college tutor and working with your ATG manager to ensure you're learning the right things.
Frequently Asked Questions