Christmas and the theatre are closely related; whether it be seeing a pantomime with your family or buying West End ticket as a present for a loved one.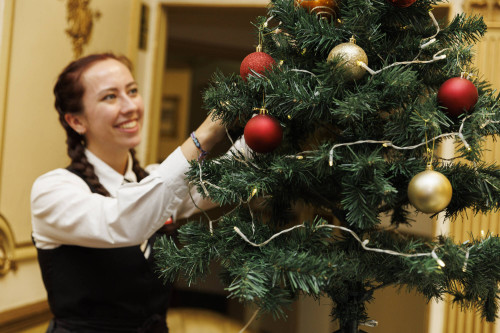 The holiday period sees many theatres full to the rafters most nights and so ATG theatres always look to hire temporary staff to ensure every customer is happy and safe for their time with us.
Usually recruitment for Christmas will start in September and October to ensure we have enough time get each new team member settled, trained and comfortable before we enter into one of our busiest times.
It's perfect for students!
If you're looking for work during a break from university this could be a perfect opportunity. Working Front of House is a perfect way to use that few weeks over the holidays to bolster that bank account and CV whilst being challenged in a fun, varied and busy environment. There are students working in almost all our theatres, including some who work in one ATG theatre during term time and then another nearer home during the holidays.
So what are we looking for?
During the festive period, all our theatres will be at their busiest trying to ensure every single customer that comes through our doors has an exceptional experience. With that in mind, we are looking for fast-learning, flexible staff who excel at working with the public. We are always looking to help and upsell our premium products while at the same time making sure each customer feels individually cared for and looked after. You'll be the sort of person who really cares about doing your best, whether you're going to be working with us for a couple of months or years to come. If you are a friendly, focussed person who enjoys a fast-paced working environment and learning on the go, the holiday period at ATG is perfect for you!
It's not just for Christmas
A temporary holiday contract in Front of House will usually end by mid-January. However, that needn't be the end of your time with ATG. Many team members who do an excellent job over Christmas stay on, even if returning to other commitments such as University.
How to I apply?
Click 'Job Search' at the top of this page to see all our current opportunities and apply online.
Values
To find out more about our Values
Vacancies
To see our open vacancies
Apprenticeships
To find out more Apprenticeships