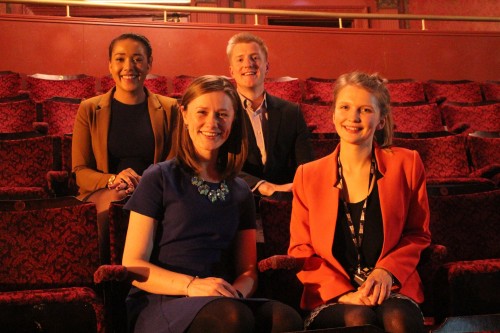 This scheme is currently closed for applications. As a result of the COVID-19 pandemic our recruitment schedule is likely to be different this year, and so, to keep in touch with the latest updates, we recommend you sign up for job alerts from this site. You'll receive an email when we announce our plans and open for applications. You can also follow us on LinkedIn.
We're the UK's largest commercial theatre owner and operator, featuring in eighteen towns and cities as well as London and the West End. Alongside our market-leading theatre ticketing business and our award-winning producing company, the chances are that if you visit the theatre in the UK, you've probably encountered ATG.
If you've dreamed of leading those theatres and making your mark on the entertainment industry then you've come to the right place. Each year we invite two motivated, ambitious and talented individuals to take part in an inspiring two-year programme, fast-tracking their career in theatre management.
Working and training with ATG offers a unique insight into commercial venue operations and creates a solid foundation for a successful career with the company. Through this scheme we're seeking to nurture exceptional leaders, equipping them to take up future managerial positions in the company. As our business grows we need to ensure we're developing the people who will lead our business next, and this scheme is one way we're doing just that.
Trainees will develop a thorough understanding of the UK's commercial theatre industry through challenging placements working with teams across the country. The first year of the programme includes placements in regional and London venues and our offices in London and Woking. Here you'll develop a broad understanding of our business, followed by project placements in the second year during which you'll take responsibility for crucial work. You can find some examples of the projects undertaken by previous trainees below.
Trainees also take part in our internal leadership development programme, Rising Stars; this programme aims to grow a new generation of talented leaders for the business and trainees will work alongside other exceptional individuals identified from within the company.
Trainees also complete a wide variety of short training courses and have a coaching relationship with a senior member of ATG staff. Reflection is a key aspect of the scheme and trainees are pushed to take charge of their own development.
On completing the scheme, our intention is that trainees have an excellent understanding of the company's current operation and potential, and are skilled managers who can help lead our business in the future. This is a rare opportunity for those determined to forge a career in theatre management and make a real impact on ATG's UK business.
| | |
| --- | --- |
| Year 1: | Induction in London and Aylesbury, including core training courses & Personal License application |
| | London Venue 1: Operations Basics - one month with Customer Experience |
| | London Venue 2: Leading a Team & Intro to Venue Management |
| | Central Teams Induction |
| | Finance, HR, Food & Beverage and Risk Intensives |
| | Group Project: you lead on business-critical tasks |
| | |
| Year 2: | Year long role in a regional venue, working as part of the venue management team |
| | Responsibility for key projects contributing to your venue's business plan |
| | Supporting one full annual cycle in the venue, including financial and HR processes |
| | Additional core training courses such as IOSH Managing Safely |
| | Application for suitable roles as they arise during the last 6 months of the scheme |
| | |
| Throughout | Coaching from a qualified member of staff |
| | Leadership & Management skills training programme |
The first year of the scheme is based in London, with the second year in one of our regional venues. Our ideal candidate is open to working from any of our UK locations and is open to moving to where the best opportunity can be found. Please note this structure is indicative and frequently adapts as the needs of the business change.
What is the scheme really like? Hear from our previous Graduate Trainees.
Jamie and Rachel were first to undertake the scheme, from 2014-2016. Rachel became Deputy General Manager of Aylesbury Waterside Theatre and is now General Manager of the Grand Opera House in York. Jamie became Commercial Development Assistant in ATG's London office, Deputy General Manager of Milton Keynes Theatre and is now General Manager of The Ambassadors Theatre in the West End.
Thalia and Adele completed the scheme in 2017. Adele is currently Theatre Manager of Aylesbury Waterside Theatre. Thalia became Deputy General Manager of the Lyceum Theatre and is now General Manager of The Savoy.
In 2018 Dan and Rosie completed the scheme. Rosie is currently Deputy General Manager of the Lyceum Theatre and Dan is Theatre Manager for another organisation, the Troubadour Theatre in Wembley Park.
Completing the scheme in 2019, Peter is currently Theatre Manager (maternity cover) for our Glasgow theatres. His colleague Julia returned to Amsterdam to pursue opportunities there.
Our current trainees, Matt, Allie and Freya, have recently been working at the Savoy, Lyceum, Apollo Victoria, Piccadilly and Ambassadors theatres in the West End and are about to begin working on projects relating to company finance and the launch of the refurbished Stockton Globe.
Jamie
English, Bristol University
For my first placement I was based at the Milton Keynes Theatre, with the intention of gaining a good overview of ATG's regional venue operation. With this as the goal I had the chance to spend some time working with every department in the theatre, often getting involved in projects with them, but my main focus was the Front of House and Marketing departments as well as the senior management team in the venue. For the second six months I worked in London and my time was split into two parts: half in a West End venue (mine being the Piccadilly Theatre) where the intention was to get an overview of how ATG's West End venues operate, and half spending two or three days in each central department in both ATG's Woking and Charing Cross offices. This gave us an insight into the role of each central department and how they support ATG's venues.
In comparison the second year placements were much more project focused, allowing me to get fully immersed into a certain aspect of the business. I spent my first six months in the central Customer Experience department, working specifically on the roll-out of ATG's Bistro concept (restaurants in our regional theatres). The project was mainly focused around the brand management of the concept, as well as making recommendations on how to roll out the concept into regional venues. My final six months is based in the Ticketing department, specifically in London Sales, looking at the unused inventory in the West End and identifying new markets of theatre goers.
The scheme is an amazing opportunity for any graduate looking for a career in theatre management. It is not often, in any company, that you get the chance to spend two years experiencing such a variety of different placements and this is what makes ATG's Graduate Scheme an incredible springboard into the world of commercial theatre.
Rachel
History with German, UCL and the Humboldt Universität
I studied History with German at university, whilst working front of house at the Milton Keynes Theatre. Despite my best efforts to write essays on theatrical topics (the politics of 18th century German operas, anyone?!), my degree does not naturally lead onto a career in the theatre industry. The ATG Graduate Scheme however allowed me to bridge the gaps between my studies, my skill set and my professional ambitions in a way that no other scheme promised to do.
The scheme's structure is tailored according to the development needs of each candidate; a perk of being one of two as opposed to part of a mighty trainee cohort. If you're proactive, new opportunities to explore the business' complexity and move across venues and departments arise daily. Fast-paced change characterises the trainee experience. I have lived in four different locations over the course of the two years, as necessitated by the different placements I have undertaken. It's intense and overwhelming at times; it's exhilarating and inspiring always.
The support you receive from not only line managers but all colleagues is tremendous, everyone wanting you to succeed and welcoming your curiosity about their role in ATG. The range of expertise housed within the company makes for a fascinatingly broad educational experience - valuable 'food for thought' in the early stages of my career. The scheme is less about amassing specialised knowledge on one particular topic and more about developing your understanding of the industry, your own skill set and your professional identity. I am very grateful that this was my start in the industry.
Adele and Thalia joined the scheme in 2015 and completed in 2017. Adele is now Deputy General Manager of the New Theatre Oxford and Thalia is Deputy General Manager of the Lyceum Theatre in London.
Adele
Arts and Festivals Management, De Montfort University
Whilst studying Arts and Festivals Management at De Montfort University, I went to watch Headlong's 1984 at Richmond Theatre in September 2013. During my second year I was researching every theatre I set foot in to see what career opportunities they had and if they did anything for graduates...and that's when I came across the Graduate Scheme! I knew I wanted to run a major theatre and this was the perfect scheme to get me there.
I began my graduate career at Milton Keynes Theatre for first six months where I worked in lots of different departments. I spent my first few months working directly with the Deputy General Manager, attending internal and external meetings, learning about deals, settlements and seeing the venue from every departments' point of view. I then delved into my first department placement with Front of House, just in time for Panto season. This was a fast paced and intense period, doing everything from serving behind the bar, cashing up, and taking in deliveries to duty managing performances and learning how to lead the front of house team.
In my time with the Marketing team I learnt what it means to be a theatre marketer and gained insight into the many different aspects of the team's work. I assisted with the brochure, analysed the just-completed pantomime, worked with designers to produce print and worked with internal and external stakeholders to set up competitions and offers.
My final week was spent with the General Manager, attending meetings and seeing exactly what my dream job looked like! I've had an incredible introduction to ATG and look forward to the next chapter where I will spend six months at the Apollo Victoria and Head Office.
Thalia
Biology, University of Sheffield
As a third year Biology student studying at the University of Sheffield, I was really involved in the student theatre company, managing people in my role as chair and organising events with a local children's theatre company. When I found out about the graduate scheme, I couldn't wait to apply; it sounded perfect for me. After a competitive selection process, I had the opportunity to move to Liverpool for six months to work at the Empire Theatre, one of ATG's regional venues.
Here I spent time with the different departments in the theatre, such as Marketing, where I was handed over responsibility early on to lead on the marketing activity for our in-house restaurant, Lime St Bistro. My project management skills and understanding of marketing a business have increased and I had a valuable sense of ownership over a significant aspect of the venue. There was also a strong focus on developing my skills towards a career in venue management. I duty managed shows, handling customer complaints and supporting the Front of House team, which has developed my communication skills and my ability to maintain control in difficult situations.
From working on Britain's Got Talent to helping with the youth theatre's involvement in the Liverpool Luminous Landscapes lantern festival, every day has been exciting and different!
I am looking forward to starting three months in the Harold Pinter theatre in the West End, before going on to three months of Head Office tasters, to develop my understanding of the wider business and integrate my knowledge of venue operations with centralised functions.
Rosie Preston and Daniel Lewis joined ATG in September 2016 and are currently in their second year of the programme. We've asked them to describe the first year of the scheme.
Rosie
German Studies, University of Warwick
My first six months in post were spent working at The Kings and the Theatre Royal in Glasgow. These two dynamic venues with their energetic team and constantly changing shows were a perfect introduction to a commercial receiving house. Variety is the word to describe this placement – one week can contain anything from payroll and performance reviews to planting a paper-mâché pumpkin patch for panto!
The subsequent secondment in Head Office is your chance to learn about corporate strategy and develop market understanding. Some of the business operations encountered here (such as HR and finance) are pivotal to any enterprise, others, namely ticketing, programming and production, are specific to the live entertainment industry. This placement provides an insight into the quantifiable and commercial considerations behind the intangible and experiential product of a theatre visit.
During my West End venue placement I joined the management team of the Harold Pinter Theatre, who were hosting the sell-out summer season of Hamlet. Here I Duty Managed shows and worked together with Box Office and Front of House to launch venue tours of the historic building. Now you have encountered both a venue with long standing show, and a receiving house with a high show-turnover, you can compare their respective operational goals and challenges.
Year two of the scheme is your opportunity to take responsibility for business critical projects. Mine included project managing an IT roll out across the business, and acting as Deputy General Manager of York's Grand Opera House. The scheme is a well-structured and unique opportunity to develop management competencies across two complementary worlds: that of commerce and the creative industries.
Dan
International Business and French, Aston University
I worked Front of House part time at ATG's New Alexandra Theatre during my studies. Upon joining the Graduate Scheme I spent my first six months at the New Wimbledon Theatre. Whilst there I spent time working with every department in the venue, including Duty Managing a variety of shows including the annual pantomime, working backstage with the Technical department during the national tour of Evita, and taking ownership of a digital archive project to begin the process of bringing the theatre's rich history into the 21st century for everyone to enjoy.
Following the period in the offices, I spent ten weeks working at the Savoy Theatre in the West End, current home of smash hit musical Dreamgirls. This time gave me a real front-line experience of one of the company's busiest West End venues – Duty Managing shows and responding to customer complaints, along with learning about the general management of a West End house was a great experience and made me realise the vast differences between our regional and West End theatres.
Whilst there are no doubt some significant similarities, the challenges faced can be completely different, with a much broader demographic made up of tourists, international schools and day visitors much more the norm, with less of a core repeat audience that you might expect in the regions. I also led on a project to explore the viability of offering theatre tours – the Savoy is a historic building dating back to the 1880s, so the opportunity to potentially open the doors and share that with the public was an exciting one.
I am currently part way through a six month project with the Group Food & Beverage team, leading on the development and launch of a new menu for our six Bistro restaurants as well as developing a new range of food for our West End Ambassador Lounges.
Julia Groen and Peter Chicken joined us in September 2017 and are currently in their first year.
Julia
Economics & Business, University of Amsterdam and Strategic Management, Erasmus University Rotterdam
I have never come across such an amazing opportunity in theatre before. I think the scheme is unique in that it allows you to learn about all aspects of managing a theatre as well as running a large commercial business. All whilst the company gives you the opportunities to develop yourself as a person and a leader.
For me, this was exactly what I was looking for but assumed would not exist. Originally from the Netherlands, I combined my work in theatres back home with my studies to aim for a career in theatre management. I always wanted to become a leader in theatre that combines a passion for theatre with business skills to be able to let theatre(s) thrive.
My first assignment is in Glasgow, which means that I get to learn from two, quite different, theatres at the same time: Theatre Royal and the King's Theatre. Almost every day is different as I get to learn from all different departments and work on my own projects on the side. For example, I could work on a front of house recruitment project with the customer experience team during the day and subsequently run a show from the stage wings with the colleagues of the technical department. Or I find myself carrying out marketing activities for this year's pantomime after having attended a budget meeting with the theatre director about the potential of shows that are planned after next year's pantomime. The time here gives me the opportunity to literally experience what every role within the theatre entails, and provides me (already!) with an understanding on how all roles together enable our theatres and the business to run.
Both the Rising Stars programme and the contact I have with previous trainees and fellow current trainees boost the learning even more. It allows me to share ideas and reflect on everything I experience. I can't wait for the rest of the months here in Glasgow and the new learning experiences that lay ahead.
Peter
English and Drama, Bristol University
After graduating I spent a year back in the restaurant I'd been working in since I was 18 finding my feet in a management role. It wasn't where I'd dreamed of going after university, and when I saw the advert for ATG's graduate scheme I was presented with a unique opportunity to marry the passion I have for theatre with the experience I had gained in management. After an intense recruitment process, I turned out to be one of the lucky two selected to go on this whirlwind opportunity with ATG!
My first few months on the scheme have been incredible. After a few days meeting heads of departments in our London office, I was whisked off to my first assignment at The Empire Theatre in Sunderland, one of ATG's regional venues. Upon arriving the priority was to get me Duty Managing shows by the time Mamma Mia came around, which was an incredibly busy show. As well as this, I took my expertise in restaurant management into The Empire's Garden Place Bistro, attempting to streamline processes for the staff whilst speeding up the customer journey.
I have since spent time in each team in the theatre, gaining an insight into their work while learning from the theatre's managers too. I've been in the Box Office selling tickets and packages, working on Arts Council bids with our Creative Learning Department, and engaging with audience development initiatives within the Marketing Department. I'm currently juggling the Merchandise Strategy for the Pantomime and the Empire's Business Continuity Plan for our Risk team – two projects that could not be much more different! I'm also eagerly anticipating the arrival of Shrek The Musical, where I'll be assisting backstage in the Technical Department. This has been such an inspirational start to a career, and I cannot wait to see what the rest of my journey with ATG holds.
This scheme, alongside many other management training programmes out there, is designed to be an intense opportunity to learn and will be a real challenge for you. There are some aspects of the scheme you should consider before applying that will help you decide if this scheme will suit you.
Focus. The scheme gives significant exposure to managing venues – the people, finances, buildings and activities. This isn't an opportunity to develop as a specialist in one discipline such as marketing or production, but a chance to learn about the whole business and develop broad skills as a manager and business leader. It's really important to us that senior managers understand life in our venues. Consider the difference between specialist and generalist roles and where you see yourself going. Many of our venue managers worked their way up in a specialist role before moving to leading a theatre and that's an equally valuable career path.
Relocation. Trainees could move home twice or more, and some projects may involve frequent national travel. You may be living away from your friends and family. You'll learn a lot in return, but don't underestimate the toll this can take. If staying in a particular location is the most important factor to you unfortunately this scheme isn't the right one.
Pressure. Schemes like this pack a lot in! There are many opportunities to fit in, and part of the challenge is managing your time. You'll be working with people from across the business, many in very senior positions, and you'll be expected to work at a management level very quickly, tackling some challenging situations, balancing this with your own study at the same time. Much of this pressure will come from yourself – we know you want to do well! There will of course be support for you every step of the way, but it is worth thinking about your preferred ways of working and whether this structure sounds like it would suit you.
The company! What do you know about ATG already? Have you been to our theatres? What do you think of our company values? What have you read about us online? Think about what kind of role and company you want to work in and whether we sound like the right company for you.
Q. What is the difference between the scheme and an internship?
Our internships tend to be focussed on broad administration skills or specific technical roles, whereas this scheme is focussed on venue management and developing broad leadership skills. Our internship scheme is a highly regarded, successful programme in its own right and is not designed to lead on to the graduate scheme. You can find out more about our upcoming internship programmes, which are usually shorter than six months and based in our offices, here. The Management Training Scheme lasts for two years and is focussed specifically on leading towards senior venue management roles as the next step.
Both schemes include the opportunity to learn about the wide variety of work ATG does and the different roles available in the company but the resulting career paths are intended to be different. The internship is focussed on broad administrative skills that are relevant to all job roles, and at the end of the internship interns typically move on to junior roles in specialist 'shared services' departments or administrator roles in venues. Management trainees however must be focussed on theatre management and venue operations, but will learn about the different departments and functions so that they have a thorough understanding of how the business works as a whole. We think this will set trainees up well for senior venue management roles as these roles are 'generalist' and require you to have a good understanding of all elements of the business.
Q. What does 'senior venue management' mean?
Good question! These roles are about the overall management and oversight of a particular theatre. The roles we're focussed on are ultimately responsible for a particular venue. The role will include management of a very varied team of people with different specialist skills, business planning and ensuring the theatre meets its financial and performance targets, developing new business and income streams and maintaining a positive reputation in the community, allocating resources effectively, contributing to programming decisions, taking responsibility for safety and risk management and the venue's legal obligations, the training, support and development of your staff to ensure the theatre is run in the best way possible, always looking for ways to grow and improve. As you can see from the destinations of our previous trainees, usually we'd be looking for a trainee to progress to a deputy general management role or equivalent on completing the scheme but other roles may also be considered depending on the vacancies that arise at the end of your scheme.
Q. Why are there only two places?
Firstly, we felt it was important to have a small cohort so that we can ensure we offer the right level of support and resources for the trainees. Secondly, the scheme needs to be proportionate to the size of our company and the number of appropriate roles available in our business for trainees to progress to.
Finally, we aim to develop and recruit staff in a number of different ways, as this makes our business stronger; staff will come to management positions from a number of different routes, including working their way up through the company and moving to ATG after working elsewhere.
The scheme is not intended to be the only route into management roles in the company.
Q. Will I be guaranteed a job at the end of the scheme?
Successful applicants are offered a two year fixed term contract for the duration of the scheme, and a permanent contract isn't guaranteed on starting. However, be reassured that we would certainly wish to retain anyone successfully completing the scheme.
Successful completion will mean you've worked hard, have demonstrated the qualities in our person specification and are suitably experienced and qualified to take a leading role in a venue. Our ideal candidate will be focussed on progressing to General Management roles in our venues, and beyond that to senior leadership or project roles, in venues or other business areas.
Although we know the kind of roles we'd like trainees to progress to, we can't predict which roles will be available in two years as our business evolves very quickly! Therefore it's not possible to guarantee exactly which role you'd be able to apply for.
Trainees will have support from their staff mentors to manage the next steps of their career.
Q. When would I start?
Trainees join the company in September. Recruitment for each intake usually takes place from January-April of the same year.
Q. What is the salary?
Graduate Trainees will be paid a competitive starting salary on a two-year fixed term contract, with a pay rise in the second year depending on performance.
Q. Where would I work?
ATG manages theatres up and down the UK, and has offices in central London and Woking. You could be working in any of them. The location of each placement will depend on current projects and where the best learning opportunity can be found. We are looking for people who are flexible about their work location and are excited by the chance to travel and experience the breadth of our UK operations; our ideal candidates will readily move home to chase the best opportunities. ATG offers a generous relocation package to enable this, for both existing and new employees.
If this could prevent you from applying, as a result of disability or caring responsibilities for example, please contact Cate Gordon on recruitment@theambassadors.com for further advice.
Q. I already work for ATG, or I have completed an internship with the company. Does this exclude me from applying to the scheme?
If you fulfil the other characteristics in the person specification you are very welcome to apply. Whether or not you are an internal candidate does not score you additional points in the recruitment process.
Please note that our internships and this scheme are not intended to lead on to one another. They are separate routes into the company and are designed to lead to different kinds of role.
Q. I need a visa to work in the UK. Can ATG sponsor me?
No. ATG does not sponsor candidates. You must have the right to work in the UK in order to apply. We understand that Britain's negotiations on leaving the EU cast some uncertainty on this matter; if you have eligibility to work in the UK under current rules you are eligible to apply.
Q. What is the recruitment process?
The recruitment process includes an application form, a telephone interview, an assessment day and a panel interview.
Each stage of the application process is assessed against the criteria set out in the person specification, by a team of staff from a range of ATG departments and roles. Application forms are marked by two independent members of staff and compared in order to make a shortlist to invite to the telephone interview stage.
The recruitment process is thorough and highly competitive for just two places; this shouldn't put you off. If you are an ambitious person, passionate about commercial theatre management, learning new skills and taking on new challenges, then you should apply.
Q. How many applications do you receive?
We receive between 180 and 250 applications each year, equivalent to between 90 and 125 applications per place.
Unfortunately, as a result of the volume of applications we receive, we are unable to offer feedback on your application form if you are not invited to the assessment day, unless you already work for ATG.
Q. I want to work in theatre, but not in venue management. Where should I go?
There are many ways you can gain relevant experience or find relevant jobs in the industry.
At ATG you could:
We work closely with AKA, a leading marketing and advertising agency specialising in the arts and entertainment industries. You can find out more about careers with AKA including their graduate opportunities on their website.
For jobs and experience outside of ATG, you can find many opportunities on the following websites:
Please visit our recruitment page here.