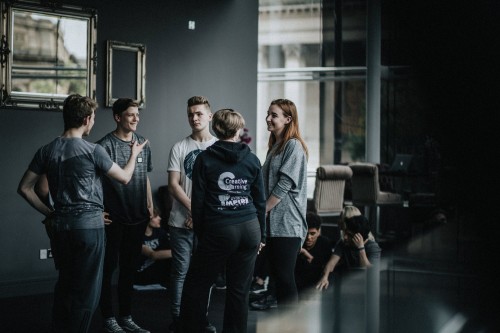 How do you know if you want to work in theatre? Work experience is a great way to find out more about the industry and to see if it is for you. Every year we offer a range of opportunities across our venues and offices which will give you an insight into our work and help you decide.
Although the details do change depending on which theatre you are based in, our opportunities usually last for one week and give the opportunity to experience life with most of the departments in the venue. They are designed for students aged 14+.
ATG theatres are receiving houses, which means we host touring productions created by companies outside of the theatre itself. The teams in our theatres include:
Customer Experience – the team that looks after the audience during their visit
Food & Hospitality – many of our theatres provide dining or catering too
Technical – the team behind the scenes of the show
Marketing – making sure our local audiences know about our events and our tickets are sold
Box Office – supporting audiences to book the tickets they need
Creative Learning – providing opportunities for our local community to get involved in theatre too
Maintenance – ensuring our theatres are kept in great condition
Stage Door – managing the staff entrance to the building and keeping us safe
Administration – usually one person, supporting all admin work in the venue
Venue Management – leading the theatre teams and ensuring we work as a business
We don't create the shows in our theatres, and so there's a variety of departments we can't provide a traditional work experience opportunity in. These include costume, set design, make-up, directing, writing or performance. If these are the areas you're interested in, there are some links and ideas provided in our FAQs.
A week's work experience with us will usually include some time with most, if not all, of the venue teams. Please note that as we're a theatre, work experience will usually involve being here out of office hours – as that's what it is like if you work here! This is usually to shadow front of house staff at one of our events.
During your week with us we'll also set you a project which will give you an insight into the overall work of the theatre and help you understand how we work as a company.
Alternative Work Experience
Our Stoke and London theatres provide an alternative to traditional work experience. In Stoke, the theatre accepts young people for two weeks during the summer holidays to work on a performance, and in London, the Work in Theatre course gives a broad insight into the slightly different workings of a West End venue. These opportunities will also be advertised on this site alongside our other work experience programmes.
Each of our work experience opportunities will be advertised on this website as a vacancy, and you can apply in the same way as you might apply for any other job. If you're interested to get an update when we advertise a work experience opportunity please sign up for our job alerts.
Read through the FAQs here and make sure it is something you'd like to do. Then, go ahead and register on this site to apply. You can see current opportunities open for you to apply in our Job Search section.
If you are under 16 you'll need a parent or guardian's permission to register – this is easy to do and is part of the application form. This is because of data protection rules which mean we must be extra careful when storing your information.
Once your application has been received it will be read by the theatre team. They'll score your application and decide who to invite to an interview (which is called 'shortlisting'.) You'll receive a message from us letting you know either way as soon as a decision has been made.
If you are invited to an interview, it will be with members of our theatre team who will ask you some questions about yourself, your interest in work experience with us and what you're hoping to get out of it. There's nothing to worry about – the team are friendly and there's no trick questions!